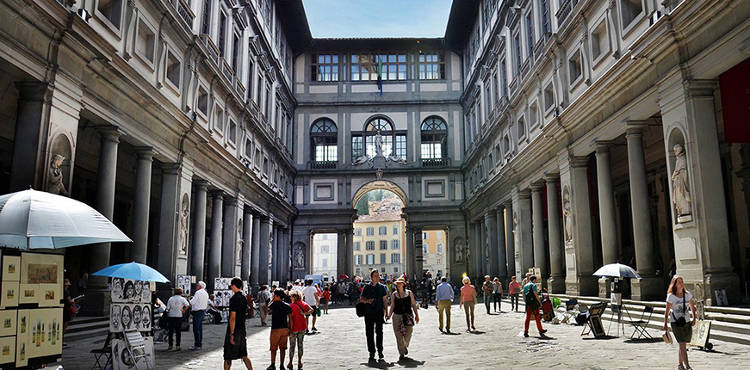 The Uffizi Gallery of Florence
The Uffizi Gallery was designed between 1560 and 1580 by Giorgio Vasari. Originally this magnificent gallery was designed as offices for magistrates, judges, technicians, and merchants of Florence and is from here that its name comes from. It was built by the orders of Cosimo I de' Medici, first Grand Duke of Tuscany in a U shape.
Today the Uffizi Gallery is one of the most visited museums in the world and and here are displayed collections of paintings from the 14th-century and Renaissance period. Some of them are absolute masterpieces! This gallery also houses a collection of aged statues from the Medici family, which adorns the corridors. In summary, 1,700 paintings, 300 sculptures, tapestries, antique furniture and ceramics that form a unique cultural and artistic heritage in the world.
If you visit the Uffizi Gallery your tour will start on the second floor. To get to this floor you have to go up the stairs of a grand staircase dating from the 16th century, at the time of the Medici. You will also find the elevators reserved for anyone who can not use the stairs. The Uffizi Gallery second floor holds the main and the most interesting halls of the whole museum. The 45 halls on this floor present the works of art from the 13th to the 18th centuries with many sculptures from antiquity from the Medici collections. At the end of the path of this floor there is a bar/cafe where you can stop, take a drink or a snack and enjoy the spectacular view of Palazzo Vecchio as well as, the wonderful view of the historical center of Florence.
Then you can go down to the ground floor where you will find other halls with Caravaggio masterpieces among others. You'll find a well supplied bookstore with art history books, souvenirs, children's books and much more.
So, when you come to Florence you definitely should not miss this Museum.