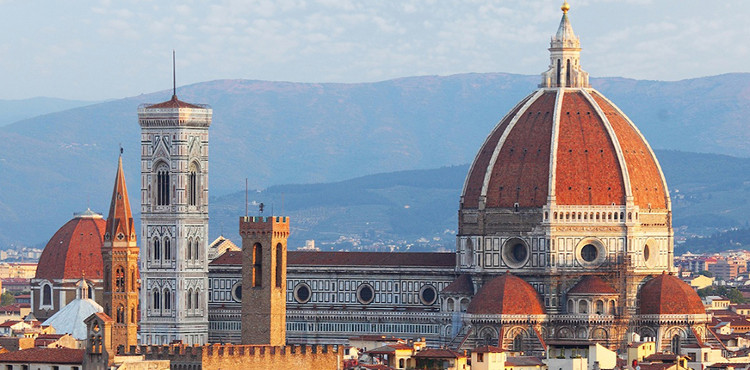 Top ten favorite places in Florence – PART 4
Did you enjoy the blog about the squares in Florence? Were you able to visit all of them? I really hope so as today I will continue with the list of my top ten favorite places in Florence.
I hope you enjoy them!
7. CAFETERIA OBLATE
This cafeteria is located very close to the Florence Duomo. It is on the second floor of the Oblate Library and it has already become an important place of the city because of its social and cultural life wothout forgetting its wonderful view of the duomo. It is a modern and fresh space were many students of the university normally go to spend their time at the library in a relaxed, safe and pleasing surrounding with its unique atmosphere.
8. LOGGIA DEI LANZI
The Loggia dei Lanziis located in one of the most important squares of Florence, Piazza della Signoria and it will be on your right while looking towards Plazzo Vecchio. In the inside of the Loggia you will see many statues which turn the square into an open-air museum that is completely free andhe where you will be able to admire artworks by greats artists such as Michelangelo, Giambologna, Cellini, Bandinelli and Ammannati.
9. THE MEDICI VILLAS, UNESCO WORLD HERITAGE SITES
UNESCO World Heritage included within its twelve Medici villas and two gardens. Most of them are in the outskirts of Florence but all of them can be visited for free! Enjoy the beauty of Tuscanyand visit this gorgeous villas enjoying as well the peace of being away from the city, just like the Medici used to do in their time.
Villa di Castello
Villa di La Petraia
Villa di Poggio a Caiano
Villa di Cerreto Guidi
Pratolino Park
10. FIRST SUNDAYS OF THE MONTH
If you are in Florence during the first Sunday of the month, remember there is a unique surprice for you, you can visit the Uffizi Gallery, the Accademia Gallery, the Bargello Museum, the Medici Chapels or the Pitti Palace for the price of 1 euro!
Enjoy a day immersed in the great artworks of great artists housed in the Florence's top museums.
I hope you enjoyed this blog that was divided into 4 parts and I hope to hear from you during the next ones.
Enjoy Florence!!!