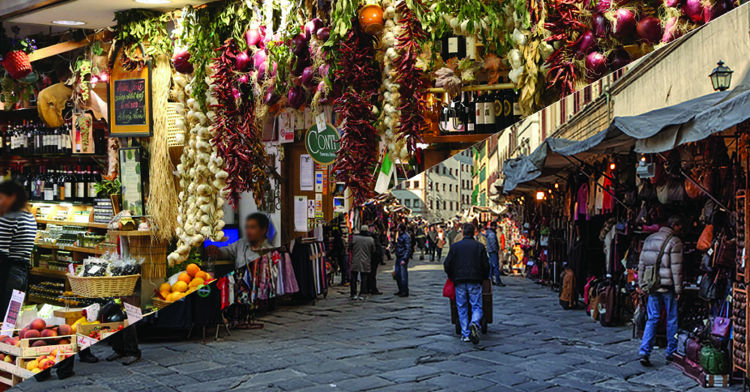 San Lorenzo Market in Florence or Mercato Centrale
There are many markets in Florence, and together with the daily markets there are even weekly and monthly markets to add to this whole new experience. You will find that markets generally sell either leather and other souvenirs, food or household goods. Whether you are looking for a place where to have a meal, hunting for those local ingredients and for a Florentine dish or for a souvenir to bring home, the San Lorenzo Market is the place for you.
This market is open from Monday to Saturday from 7:00 am to 2:00 pm. It is located next to the church of San Lorenzo in the Medici neighborhood. The market is made up of two separate markets: the outdoor section of the market lines the surroundings streets of the large Mercato Centrale building, here you will find leather selling, clothing and many souvenirs. This outdoor market is a great addition to your sightseeing and to the museum visits you have on your itinerary, especially if you are searching for a break, so set a whole morning aside to explore the market, ending up at the indoor market for lunch!
The indoor market known as Mercato Centrale or Central Market where you will be able to find all type of things. This covered market is a gastronomic cave full of treats, and many of its "stalls" are actually full-on delis that get their products from all over the world. Head to Baroni for cheeses and cured meats and Conti for olive oil, sun-dried tomatoes and many other Mediterranean marvels. Stop at Nerbone, a busy snack stall that serves up lampredotto – boiled tripe, wrapped up in a panino. Plus, on the second floor you will find many little and good restaurants where you will be able to try the real Florentines food.