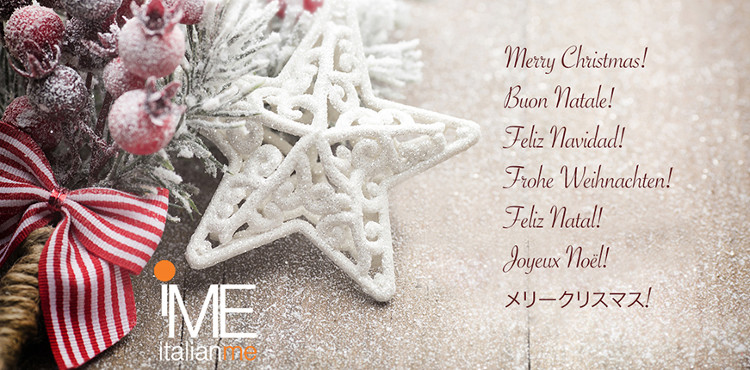 Merry Christmas from italianme to all!
At italianme, school of Italian language and culture in Florence …. Christmas is coming!
italianme with its intensive Italian language courses, evening classes, super intensive Italian language courses, Italian for opera, wine and food courses, art history courses … in a few days will take a short vacation. It's Christmas!
Christmas is coming and we decided to dedicate this blog to the useful vocabulary so that you can know and understand the basic words in Italian you might be needing during this holidays. Take a moment to see if you are ready to speak in Italian on December 25.
Natale (Christmas) is on December 25 and the night of December 24 is the vigilia (Christmas Eve) where the tradition make Italians dine dishes without meat and preferably based on fish. A dinner with the family after which everyone goes to church to attend the mass of messa di mezzanotte (midnight mass).
Once the Mass ends, everyone go back home and wait for Christmas Day. The morning, upon awakening, the scambio dei doni (gifts exchange) takes place between parents and especially for children. It doesn´t matter if for some gifts are brought by Baby Jesus and for others it is Babbo Natale (Santa Claus) with his elfi (elves) on board a slitta (sled) pulled by the renne (reindeers).
At lunch on December 25, the whole family eats the traditional Italian dishes that vary from region to region, from city to city, from family to family, but surely the tables will have crostini, tortellini in broth and the typical panettone and pandoro and in the end a good brindisi (toast) with a glass of spumante (sparkling wine).
After the exchange of gifts with the rest of the family, after the talk and the long lunch, how does Christmas night ends for Italians? Some will play tombola (bingo) or cards, the little ones will be busy with the newly received gifts. But many, many Italians traditionally spend the Christmas evening at the cinema, perhaps to see a (questionable) cinepanettone (Christmas movie). Merry Christmas to all!