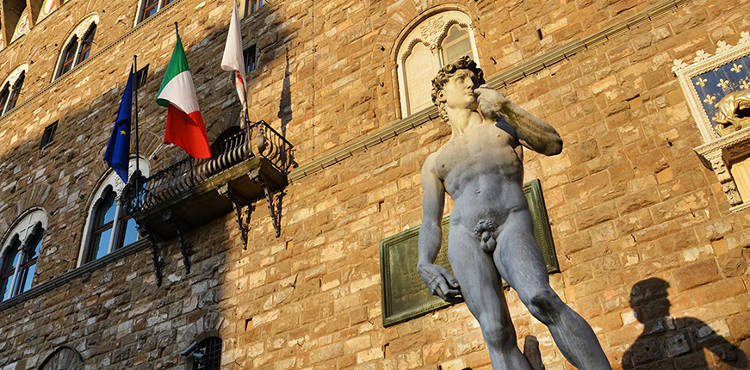 A walk through the Florence of the Medici
On Monday afternoon I participated in an activity organised by italianme for their students we went to a walk through the Florence of the Medici!
We all meet at the school 15 minutes before the starting time and the tour started at 16:00 in company of one of the schools teachers, Benedetta, she just enchanted us with the history about the Medici. Our first stop was the Palazzo Medici Riccardi on Via Cavour 3. Benedetta told us the history behind the building and it was incredible to find out that it was build between 1444 and 1484 by Michelozzo di Bartolomeo for the head of a family of bankers: Cosimo de' Medici. The former palace is now known as a Museum, but it was the first Renaissance building constructed in Florence.
From Palazzo Medici we walked through the streets of Florence till we reach Piazza della Signoria to see Palazzo Vecchio. Piazza della Signoria has been the center of political life and the scene of great triumphs in Florence since the 14th century. Here we admired the Loggia dei Lanzi, also called the Loggia della Signoria – a free open air museum were we saw sculptures as: Perseus with the Head of Medusa by Benvenuto Cellini, Hercules and Nessus, The Rape of the Sabine Women by the Flemish artist Jean de Boulogne, the Rape of Polyxena by Pio Fedi, and one of the Medici lions.
Did you know that the sculpture of David which Michelangelo designed was placed outside the Palazzo Vecchio as a symbol of the Republic's defiance of the tyrannical Medici? Benedetta told us that the original sculpture of David can be seen nowadays at the Accademia Gallery and that this one we can see here is a copy made to replace the original one and was placed in Piazza della Signoria in 1910.
Our last stop was the Piazzale degli Uffizi where the Uffizi Gallery is, right between Palazzo Vecchio and the Loggia dei Lanzi. The Uffizi building was originally built to house the administrative and judicial offices of the Medici, but today the Uffizi Gallery is one of the most visited museums in the world and it houses the best and the most antic renaissance collections of paintings in the world.
Benedetta was fantastic, very friendly, helpful and she gave us lots of information about this family who determined the past and future of the city of Florence, the family that made of Florence the city of the Renaissance as they supported many artist of the time.
I will definitely do it again!