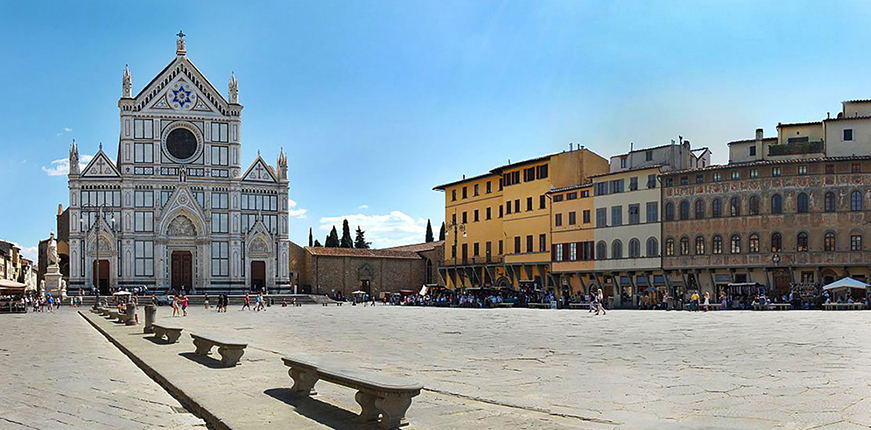 10 things to do in Florence completely for free – Part 3
How was your walk around Florence? Are you enjoying the city? Did you have time to visit the attraction I recommended on my last blog? What do you think about them? I'm very curious to read your thoughts!
Today I will continue with the list of my top ten favorite places to visit in Florence. I will take you through a walk around the Florence squares:
6. FLORENCE SQUARES
I will be mentioning just a few of the many squares you can find around the city:
Santa Croce Square
This is one of the most evocative squares in Florence. It is a great testimony of the Middle Ages in Italy with its rectangular shape and is characterized by visible originates lateral buildings that encircle the square.
Repubblica Square
The Piazza della Repubblica is a big and beautiful square in the Signoria District of Florence. Here we find a column that marks the intersection of two main roads from the Roman period. You can reach this beautiful piazza by foot on a 7 minutes walk from the railway station of Santa Maria Novella passing by the shooping streets of the city.
Signoria Square
The Signoria Square is situated in the historical center of Florence and it has always been the political center and the heart of the civil life in the city. You can reach this square within a 10 minutes walk from the railway station of Santa Maria Novella. It is annexed to the Uffizi Gallery, Palazzo Vecchio and Ponte Vecchio. A square with a great visual impact correlated by several sculptures and palaces.
Santa Maria Novella Square
In the Santa Maria Novella Square is located the Santa Maria Novella church from the 13th century and it is located across from the central train station in Florence. The church houses in its interior many artworks including a 3-D painting by Masaccio, the Trinity by Masaccio (1428) and in the Capella Tornabuone' the fresco by Ghirlandaio (1485).
San Lorenzo Square
The San Lorenzo Square is encircled by the church of San Lorenzo and the Basilica of San Lorenzo were we find the Ximeniano Observatory, an important seismographic and meterological center founded in 1756 as Astronomical observatory.
San Marco Square
The University of Florence is located in the San Marco Square in the heart of the historical center. On the northern side of the San Marco Square we find the Church of San Marco and a wing of the convent of the same name.